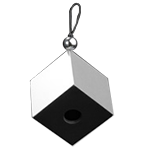 Price: € 69,00 *
* RSP
(€ 82,11 incl. German VAT)
basICColor basICCaliCube
Dynamic Range and Calibrated Gray Balance Helper
Achieving critical digital photo accuracy requires control of the following parameters: well placed highlight values, deep/rich Dmax (shadow) values, neutral gray balance. The basICCaliCube offers all three functions in one calibration device. The item shows you absolute black, clean highlight values showing just noticable detail, specular highlight (255,255,255), and neutral midtone gray. With only 3 gray balance eyedropper clicks, you can optimize the image within Photoshop/Aperture/Lightroom/or RAW converter!
Absolute Black

None of the competitive solutions provide an 'absolute black' for eyedropper end point selection. Because of the integrated light trap, pure black can be defined.

Highlight Control

The chrome ball provides specular highlight definition. Because of its 100% reflection, pure highlights can be selected. The white face of the cube also supports just noticable difference highlight (with detail) definition.

Metamerism Free Gray Balance

Neutral gray under any lighting condition. The completely neutral gray face on the cube is based on the optimal 25% quartertone value. This equates to the standard print value of L*= 60.
Functions
Package Includes
Functions
Neutral, metamerism-free gray, for a perfect camera color temperature balance
Chrome ball for specular highlight definition
White and black patches for designation of contrasting highlight and shadow with detail
Light trap for designation of the absolute black end point
Optimal tool for an ideal camera RAW workflow
Accelerates production through known target reference points, using simple and easy eyedropper clicks
Perfect for both controlled and natural lighting
Package Includes
basICCaliCube
Manual basICCaliCube
basICColor DVD with manual in attractive basICColor metal case
or download the manual from basICColor website