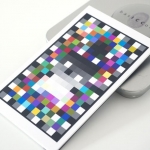 Price: € 150,00 *
* RSP
(€ 178,50 incl. German VAT)
basICColor dcam mini
Extra matt target for profiling digital cameras
The basICColor dcam mini target has been developed especially for digital photography – even under adverse lighting conditions.
Because of the extremely matte surface the incidence angle of your light is not as essential as with other targets, reflections are widely eliminated. The size is small enough to enable homogeneous illumination across the target.
The gamut of the target colors is large and the partches are distributed across the target in such a way that there is enough information in highlight, shadow and saturated colors to ensure that hiqh quality camera profiles can be created. 
With a size of 9x15cm the target is small enough to fit in any camera bag. The basICColor dcam mini target is shipped in a sturdy tin-box which protetcs it even in rough outdoor conditions. The magnet strips on the back of the target allow for easy attaching on metallic, magnetizable surfaces.
Extra matte dcam mini target
Mounted on rigid backing
Magnetic strips on the back
Size: 9cm x 15 cm
in DIN A6 tin-box
Link for downloading reference data
basICColor input5
Software for camera profiling
ICC, DCP, Capture One
All targets supported
basICColor inputRAW
Software for camera profiling
DCP only
dcam mini and dcam SD targets only
Bundle basICColor input5 and dcam mini target: € 575,-
Bundle basICColor input DCP: € 250,-