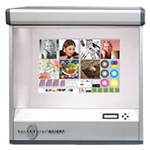 Price: € 1.665,00 *
* RSP
(€ 1.981,35 incl. German VAT)
basICColor diLIGHT
Lighting solution for soft proofing.
Achieving an exact match between contract proofs or printed material with monitor softproofs is critical to efficiency in the graphics industry. Success depends on achieving controlled brightnesses of both the display and of the print viewing condition. The basICColor diLIGHT offers an exacting, controllable, print viewing environment which is due to the software controls combined with reference colormeter readings. The hard and softproof comparison is in accordance with ISO 12646 standards. The incident light standard meets ISO 3664 dictates. This achievement is married to basICColor display controls of the monitor/video card combination. Truly accurate soft proofing can now be achieved within a reliable solution. The resulting time and cost savings improve every production shop's balance sheet statement.
Please note the three comparisons listed below:
Photography Workflow

Image Preview -  Whether working in Photoshop, Lightroom, or any other ICC aware application, the exact correlation to photographic prints or to publication prints is critical. In some instances, it is a time and waste reduction consideration. In others, it is a professional reputation determination. Ultimate quality demands a reliable viewing standard.

Conventional Repro Workflow

Monitor and Proof Comparison - Hard copy including print, photos, contract proofs or textiles require an exact computer display correlation. The accuracy and reliability provide better information for decision making and workflow streamlining.

Print Shop Workflow

Improve Makeready Accuracy - proof to press: when softproofs accurately represent the on-press results, costly on-press corrections are eliminated.
Functions
USB interface
Viewing surface formed as a groove
Almost 100% even illumination
Glare and shadow free
Standardized lighting ISO 3664:2000
Electronic dimmer
Digital display showing luminance level, hourmeter and tube replacement
Outside dim.: 63 x 64 x 45 cm