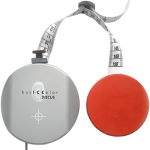 Price: € 790,00 *
* RSP
(€ 940,10 incl. German VAT)
basICColor DISCUS
Professional Lab-Grade Colorimeter for Soft Proofing
basICColor DISCUS is a high end colorimeter for exact measurement of monitors, projectors, large format displays, viewing booths, and ambient light. The flat faced device with an anodized aluminum unibody housing is beautifully finished. Because this device uses ultra thin glass filters, the results are highly accurate, long-term stable and reproducable. This is a critical component in producing critical accuracy with soft proofing - with applications in pre-press, photography, design, digital signage, and in video production. The DISCUS offers selection of three measurement modes. It also supports telephoto measurements of large format displays and projection displays. For this purpose a tripod mount, a measurement angle of 4°, and a laser beam for alignment have been added. As expected, the colorimeter lays flat on all kinds of displays for accurate color sampling, with absolute protection from oblique ambient light interference. As this device has become the industry reference standard, your investment is protected by the guarantee of future support within several software packages.
basICColor DISCUS and basICColor display software have joined to produce an uncompromised team!
Update your DISCUS individually with the basICColor DISCUS Calibration Updater for the latest monitor models!
Universal Colorimeter

basICColor DISCUS supports contact measurements, telephoto measurements with laser positioning, as well as ambient light measurement. The unique housing design offers ultraflat contact with conventional displays, and laser positioning with evolving technology displays.

Proven Stability

Using premium coated optical glass filters, and combination with sensors offering high inter-instrument agreement, the DISCUS guarantees long life stability. Each device is individually calibrated and can also be recertified. This provides peace of mind that the measurements and results achieve the highest possible standard. An otional maintenance agreement keeps your DISCUS up to date for lifetime).

Lab-grade Precision

The DISCUS is the only competitive device offering a temparature sensor, which combined with unique circuitry, compensates for device warming that occurs during the course of repeated measurements. The device maintains perfect reference to absolute black and insures accuracy in the shadow region measurements.
What our customers say about the basICColor DISCUS:
"The basICColor DISCUS was outstanding"... says Dry Creek Photo.
"The DISCUS fits the bill for everything a high end user needs in a display calibration device"... says Chromix.
Functions
Package Includes
Accessories
Compatibility
Functions
Measure Modes: Contact, tele and (ambient) light measurement
Optical Design: Highly sensitive colorimetric sensor with long-term stable thin-film glass filters, (Glasfilter), elaborate optical path for a large measure spot even in contact measurement
Aperture Angle In Contact And Tele Measurement: +/- 2°
Measure Spot In Contact: ø ca. 7 mm
Measure Spot In Tele Measurement, Distance 1m: ø ca. 7 cm
Measure Spot In Tele Measurement, Distance 10m: ø ca. 70 cm
Filter Wheel With 3 Positions:
• Black calibration position and protection for optics and laser pointer
•• Tele- and contact measurement position with filter thread for (lens hood, filter,...)
••• Integrated flat calotte for light measurement (Aperture angle 180°)
Contact Measurement: Mounting suspension with tape measure
Tele Measurement: 3/8" tripod socket, laserpointer, tape measure
Light Measurement: 3/8" tripod socket, laserpointer, coplanar unibody housing for measurement of lighting (lightbox, copy holder for proof prints, print control station...), flat calotte coplanar with paper surface at a distance of only 27mm from the surface, 2 positioning aids at 45 for repeatable appraisal of stray light
Housing: Aluminum Unibody For Added Robustness And Thermal Stability
Measurement Range: Luminance: 0,05 to 2.500 cd/qm
Chromaticity: 0,05 to 2.500 cd/qm
Accuracy: Luminance: +/-2% 1 digit ( 1 ~500cd/m2 )
Chromaticity: +/-0.002 Illuminant D65
Chromaticity: +/-0.0025 CCT 4000-15000K
Chromaticity: +/-0.0065 for other colors
Calibration: PTB traceable
Flickering: Measurement according to VESA standard
Interface: USB 2.0
Power Supply: 4,7 to 5,5V DC through USB adapter
Parameter Storage: 8 different base calibrations (5 used by factory settings), 22 positions for fine-tune monitor calibrations available through DISCUS Updater
Speed: max. 10 measurements/s for low sensitivity, max. 4 measurements/s for high sensitivity
Temperature Compensation: 10°C to 50°C
USB Cable: ca. 1800mm
Dimensions: ø 97mm, height: 27mm, weight: 310g
Package Includes
basICColor DISCUS Instrument w/ laser pointer and integrated calotte
mounting suspension w/ integrated tape measure
socket adapter 3/8" to 1/4"
The package does not include a basICColor display license!
basICColor DISCUS accessories
Protect your valuable instrument with a specially designed solid, water-resistant and dustproof case: IP67 (or IP57) - the basICCase. The basICColor DISCUS can be stored in this shock resistant case and transported.
The basICCase are available in 2 different sizes:
basICCase I for basICColor DISCUS: € 84,- net (€ 99,96 incl. German VAT)
basICCase II for basICColor DISCUS and optional table stand: € 198,- net (€ 235,62 incl. German VAT)
For optimal tele measurements with the basICColor DISCUS in front of your monitor, a rugged table stand with vibration absorbing rubber buffers is available. The 3/8" thread holds the basICColor DISCUS safely in perfect vertical alignment. Adjusting the height of the tripod makes it possible to fit any monitor size. Together with the basICColor DISCUS the table stand can be kept in the basICCase II for transport and storage.
Compatibility
basICColor DISCUS is supported by the following software products:
basICColor GmbH – basICColor display 5
Just Normlicht – adJUST monitor calibration 5
NEC – SpectraView Profiler 5
NEC – SpectraView II
SMARtt – softproofware
Remote Director
Serendipity Software – Veripress
Ugra Display Analysis and Certification Tools (UDACT)
EIZO – ColorNavigator 6.4.2
Quato Technology – iColor Display 3
––––––––––––––––––––––––––––––––––––––––––––––
SpectraCal – CalMAN v4
Display Calibrations LLC – ChromaPure
LIGHT ILLUSION – LightSpace CMS
––––––––––––––––––––––––––––––––––––––––––––––
basICColor GmbH – basICColor catch 4
Konica Minolta – Color Care