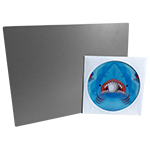 Price: € 30,00 *
* RSP
(€ 35,70 incl. German VAT)
basICColor Gray Card
Perfectly Neutral, Metamerism Free Gray Card
Achieving perfect neutral accuracy in digital photography or in viewing booth validation requires a high quality, metamerism free, gray card. Unfortunately, the well known Kodak gray card is not designed for either purpose. Total accuracy requires spectral uniformity. The basICColor Gray Card provides a linear spectral reflection curve with colorant embedded in a special plastic media. It is rugged, washable, and reliable. This card provides absolute gray balance accuracy under any light source.
Metamerism-free gray

Neutral Gray under different illuminants. The basICColor Gray Card has a remission factor of 25%. This equals a midtone gray of L*=60.

Robust

The basICColor Gray Card is a special sheet of plain grey plastic which is waterproof and washable. Therefore ideally suited for a perfect neutral balance for indoor and especially outdoor shootings.

Visual Check

basICColor gray card is perfectly suited as a reference for gray and lightness comparisons for all systems used in digital photography, especially in combination with the basICColor desktop background.
Functions
Package Includes
Functions
Neutral, metamerism-free gray, for a perfect gray balancing
Water-resistant and washable gray card
Size: 175*263*3mm
Perfect for indoor and outdoor shootings
Package Includes
basICColor Gray Card
Manual basICColor Gray Card
basICColor DVD with manual in attractive basICColor metal case
or download the manual from basICColor website
PDF report with measured Lab values