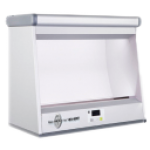 Price: € 4.290,00 *
* RSP
(€ 5.105,10 incl. German VAT)
basICColor LEDlight
Controlled Lighting Emulating Multiple Viewing Conditions
Specialized viewing conditions including airplane down lighting can be both soft proofed and hard proofed with custom controllable simulated lighting. basICColor LEDlight offers predefined standards including D50 with UV, D50 UV cut, or D65; as well as user selectable options (upgrade required). The upgrade supports D75, A, CWF and TL84, as well as custom measured target values. The relationship between the viewing condition and the display conforms to ISO 12646 standards. The basICColor LEDlight viewing condition is controlled via USB connectivity, colorimeter measurements, software controls, and interaction with basICColor display monitor calibration and profiling. This system closes the loop between the display, the proof, and the observer. Resulting decisions contribute to the reduction of waste - both in time and materials.
Please note the following three examples:
Industrial Application

Indication of Appearance Change -  Print or textile samples and metamerism can be evaluated in the studio. Will the appearance change under standard aircraft lighting? No problem with basICColor LEDlight – the textile designer won't need to rent airplane time to evaluate the appearance of a given print process or color combination.

Packaging Market

Monitor and Viewing Condition - Previsualizing packaging on a display is so complicated that until now, soft proofing systems required tens of thousands of dollars to purchase. Finally, you can invest in an affordable solution for viewing the effects of sodium vapor lighting, flourescent lighting, halogen or simple tungsten lighting, mixed daylight or other combinations.

Large Format Printing

Variable Daylight Conditions - Inkjet printing is espcially sensitive to ink media combinations and resulting metamerism. This is because the UV components in the print system cause significant changes under changing light conditions. basICColor LEDlight will demonstrate the probabiities of this effect.