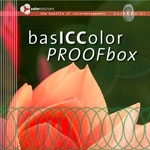 Price: € 1.898,00 *
* RSP
(€ 2.258,62 incl. German VAT)
basICColor PROOFbox
Professional Prepress Bundle
Without correct calibration and profiling, an investment in a proof quality RIP is wasted. In addition, the ongoing quality control of a proofing system requires individual contract proof validation. All of the tools necessary for this process are available in the PROOFbox bundle: 3 licenses basICColor display, 1 license each of basICColor print, basICColor catch pro, basICColor catch control, basICColor profile's secret, basICColor MatchPatch and one basICColor Gray Card (mini).
CMYK Profiling

Professional CMYK output profiling accuracy starts with basICColor print 3. In addition to creating highest quality inkjet profiles for proofing, it also produces ICC profiles for RGB, CMYK and gray balance devices - regardless of the printing technology (offset, gravure, flexo, solvent, latex, aquaeous, electrostatic, photo, etc).

Quality Control

Validating contract proof accuracy is quickly accomplished by using basICColor catch control. It will qualify any proof from any source, as long as the UGRA/Fogra or IFRA target wedge is on the print.

Optimization

Several basICColor CoolTool modules are included in the bundle. In addition to MatchPatch, profile's secret, and profile's secret, the package also includes on basICColor Gray Card (mini) - which is a benchmark reference of absolute gray in your viewing environment.
Functions
Package Includes
System Requirements
Functions
basICColor print for RGB, CMYK and grayscale profiling; detailed adjustment of the color separation parameters
basICColor display software for calibrating and profiling all kinds of displays
Quality assurance with basICColor catch control for evaluation of a quality control strip (eg., Ugra/FOGRA media wedge, IFRA Cuboid)
Iterative optimization of selected color patches (basICColor match patch)
Package Includes
basICColor display (3 licenses), basICColor print, basICColor catch pro, basICColor catch control, basICColor profile's secret and basICColor MatchPatch software for Mac and PC
basICColor DVD in attractive basICColor metal case
or download from basICColor website
TAN for unlocking the software on-line (24/7)
1 basICColor Gray Card (mini)
Free Technical Support
System Requirements
Windows:
Windows XP SP2, Windows VISTA (32 and 64 Bit)
Intel® Pentium 4-Prozessor
512MB RAM, 100MB Available Disk Space, minimum
Graphic Card Supporting 1024x768 Pixel and 24 Bit Color Depth
Macintosh:
Mac OS X 10.4.11 (PPC), Mac OS X 10.5.6 (Intel)
PowerPC® G4-Prozessor, Intel® Core-Duo-Processor
512MB RAM, 100MB Available Disk Space, minimum
Graphic Card Supporting 1024x768 Pixel und 24 Bit Color Depth