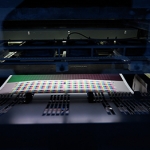 Price: € 2.990,00 *
* RSP
(€ 3.558,10 incl. German VAT)
basICColor PSOready
Professional production bundle for the printing workflow
Are you ready for the new printing conditions ISO 12647-2:2013? Are you printing on substrates that are not constrained by any standard? Does your UV-press deliver above standard results on uncoated stock?
Regardless whether you print according to ISO-standard or a house-standard, your workflow must be adapted to this standard. With basICColor PSOready you get a complete software system for color measurement, light measurement, quality control of proof, digital and conventional printing processes, long-term statistical analysis, documentation of measurement series and additional evaluation and information for visual criteria and furthermore tools for the calibration of the imagesetter-RIP and to set an offset printing press to ISO or in-house standards.
Compared to purchasing each product individually, the production-bundle includes one seat (1 license) of each product at a significantly discounted rate: basICColor catch, basICColor control, basICColor certify, basICColor statistics, basICColor calibrate and the basICColor pressSETUP test form. Measurement device optional.
The Quick Guide to set up your printing press with basICColor PSOready can be found here.
Printing press setup

Set any offset printing press perfectly to a new printing condition in appx. 1 hour (drying time excluded) - regardless whether it is a new standard (like Fogra51 for example), a new substrate, or even a new printing press

Quality control

With the quality assurance tool basICColor control you can comfortably do a proof check independently of the proofing system. basICColor certify informs of the conformity of the print to any standard. And with basICColor statistics you can confirm the quality compliance over any period of time.

pressSETUP

With a single test form you can determine the nominal inking according to a standard or normal inking, the wet density values for press control and the calibration/correction curves for the image setter.

Registered design (DPMA AZ 40 2014 200 255.3)