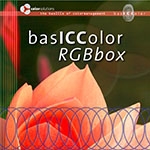 Price: € 398,00 *
* RSP
(€ 473,62 incl. German VAT)
basICColor RGBbox
RGB Workflow Bundle
basICColor RGBbox contains the RGB output workflow modules, including 1 license for each of basICColor dropRGB, basICColor display as well as a basICColor Gray Card mini. This bundle can be paired with basICColor input for camera and scanner input profiling for a complete color management system for photographers.
RGB Printer Profiling

basICColor dropRGB is a fast and easy-to-use but powerful and accurate tool for profiling RGB output devices. The drag-and-drop function offers a friendly approach to ICC printer profile creation.

Monitor Profiling

In order to see (on your monitor)  what you´ll get (from your printer) basICColor display calibration and profiling achieves highest quality monitor previews of graphics files. 

Toolbox

RGBbox offers added value by including basICColor's Gray Card mini for digital camera white balancing.
Functions
Package Includes
System Requirements
Functions
basICColor dropRGB for creating RGB output profiles
basICColor display software for calibrating and profiling all kinds of displays
basICColor gray card (mini) with a neutral, metamerism-free gray, for a perfect gray balancing
The ICC profiles are immediately ready for use after their creation
Package Includes
basICColor display, basICColor dropRGB software for Mac and PC
basICColor DVD in attractive basICColor metal case
or download from basICColor website
TAN for unlocking the software on-line (24/7)
1 basICColor Gray Card (mini)
Free Technical Support
System Requirements
Windows:
Windows XP SP2, Windows VISTA (32 and 64 Bit)
Intel® Pentium 4-Prozessor
512MB RAM, 100MB Available Disk Space, minimum
Graphic Card Supporting 1024x768 Pixel and 24 Bit Color Depth
Macintosh:
Mac OS X 10.4.11 (PPC), Mac OS X 10.5.6 (Intel)
PowerPC® G4-Prozessor, Intel® Core-Duo-Processor
512MB RAM, 100MB Available Disk Space, minimum
Graphic Card Supporting 1024x768 Pixel und 24 Bit Color Depth