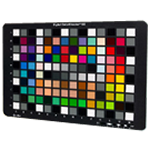 Price: € 284,00 *
* RSP
(€ 337,96 incl. German VAT)
Digital ColorChecker SG
Reflection target for profiling digital cameras
The Digital ColorChecker® Semi Gloss (SG) was specially designed for digital photography, with its extended color patch series and surrounding illumination uniformity fields. The carefully selected 140 color patches were chosen as representative color gamut markers, so that the resulting ICC input profile might produce the look and feel of traditional film based capture.The target can also be used for reflective scanner profiling. As a reference standard, the target serves both in the creation of ICC profiles, as well as in the quality control of your images, where the included target can be compared with the original. The convention speeds workflow and insures that your image editing decisions are based on accurate information.
Usage cases for the ColorChecker Digital SG-Target:
Digital photography:
Creating a custom ICC-Profilen for your camera*
White point evaluation, proofing and image editing
Analog Photography: Analysis of film, light, filters and print process
Graphic Arts: Analysis of proof and print accuracy
Film, Video and TV: Evaluation of camera qualities, light and film process
* The Digital ColorChecker SG is supported by basICColor input. which produces custom camera profiles for your specific camera/lens combinations. An accurate color workflow starts by applying the highest quality input profiles, so that you will achieve professional quality results – indispensable for art reproduction and archiving!
Functions
Array of 140 colors: 24 patches from original ColorChecker, 17 step gray scale and 14 unique skin tone colors.
Each square reflects light the same way as its real-life counterpart in all parts of the visible spectrum, under any illumination, and with any color reproduction process.
Create a white balance with your digital camera to guarantee precise, uniform, neutral white under any lighting condition.
Pair with camera profiling software to create a custom ICC profile of your camera.
• ColorChecker Digital SG, individually spectrally measured
• Mesurement data in CGATS format, compatible with basICColor input
• Measurement data file will be delivered via email
Price:
€ 550,- net
€ 654,50 incl. 19% German VAT