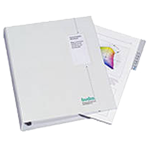 Price: € 439,00 *
* RSP
(€ 522,41 incl. German VAT)
Handbook PSO
Process Optimization for the Print Workflow
Process Standard Offset (PSO) is the new international printing industry standard. It conforms with established ISO 12647 criteria. The PSO was developed by the German Print and Media Association in combination with the Fogra research institute. The aim was to create a reference benchmark, so that well defined international printing practices could be accurately documented.

The PSO manual contains 193 pages of expert information. It analyzes the printing process, and breaks that workflow into discreet steps. Each step is masterfully described, with appropriate hardware and software controls established. The reader will gain accurate information on a range of topics including hardware: densitometer, colorimeter, spectrophotometer; software: image analysis, measurement data correlation, interpretation of plotted curves, and more. Screening technologies, color management, substrate and ink properties and other components are discussed.
Exacting detail is given to each workflow step, including: proofing, film output, conventional and digital plate making, prepress quality control testing and evaluation, as well as production run standards and QC. Processes and sub-processes are defined. Optimization within each step is used to guarantee complete control over the outcome.
The guide contains a wealth of reference data. Tables, charts and graphs provide target and tolerance values. Pre-printed worksheets support correlation with your own tables and curves. A glossary of important terms and definitions provides both vocabulary and meaning given to industry standard concepts.
This is a must-have for every quality conscious print provider - especially those who are working with ad agencies, corporate clients, and others requiring highly accurate color matching.

 Use basICColor catch certify to measure your print process for compliance with the PSO guidelines!