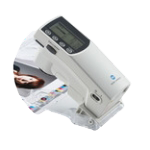 Price: € 5.900,00 *
* RSP
(€ 7.021,00 incl. German VAT)
Konica Minolta FD-7
Next generation Spectrodensitometer with Measurement Condition M1
The Konica Minolta FD-7 is the first Spectrodensitometer with standard-compliant (ISO 13655) Measurement Condition M1. The optional measurement software basICColor catch all is highly automated and can be configured for measurement tasks so that one (!) mouse click suffices to start the measurement job. The FD-7 measures either reflective or emissive and so it is also suitable for adjusting viewing cabinets such as the basICColor diLIGHT or basICColor LEDlight.
Measurement Condition M1

Konica Minolta's patented VFS (Virtual Fluorescence Standard) technology, combined with latest LED illumination technology, enables L*a*b* measurements corresponding to ISO 13655 Measurement Condition M1 (CIE Illuminant D50). 

In addition, colour measurements corresponding to ISO 13655 Measurement Conditions M0 (CIE Illuminant A) and M2 (illumination without UV-excitation ("UV-Cut")) are also possible.




Spot/Strip Mode

Through the integrated display the FD-7 can be used independently from the computer for measuring single colors. Connected to the computer, all profiling targets and control wedges such as the Ugra/FOGRA media wedge or the ECI/bvdm GrayCon strip can be measured in strip mode (scan). With basICColor catch all (optional) you will receive quality control PDF reports for proof prints and offset prints (PSO/ISO) and comprehensive statistics and you can interface to the on-line QM system iQIP®


Lightweight & Compact

The compact body of the FD-7 weighs about 350g, and even with the target mask attached it weighs just 430g, far less than conventional instruments. This makes it easier to carry out multiple routine measurements in a production environment.

Software to create test charts:
FD Chartmaker
Functions
Illumination/viewing system: 45°a: 0°(annular illumination)*1
Conforms to CIE No. 15, ISO 7724/1, DIN5033 Teil 7, ASTM E 1164, and JIS Z 8722 Condition a for reflectance measurements.
Spectral separation device: Concave grating
Wavelength range: Spectral reflectance 380 to 730 nm
Spectral irradiance: 360 to 730 nm
Wavelength pitch: 10 nm
Half bandwidth: Approx. 10 nm
Measurement area: Ø3.5mm
Light source: LED
Measurement range: Density: 0.0D to 2.5D; Reflectance: 0 to 150%
Short-term repeatability: Density: σ0.01D
Colorimetric: Within σΔE00 0.05 (When white plate is measured 30 times at 10-second intervals after white calibration has been performed)
Inter-instrument agreement: Within ΔE00 0.3 (Average of 12 BCRA Series II color tiles compared to values measured with a master body under Konica Minolta standard conditions)
Measurement time: Approx. 1.4 s (single-point reflectance measurement)
Displayed values: Colorimetric values, colour-difference values, density values, density-difference values, dot area ratio, dot gain, PASS/FAIL judgment, illuminance, correlated colour temperature
Measurement conditions: Corresponding to ISO 13655 Measurement Conditions M0 (CIE Illuminant A), M1 (CIE Illuminant D50), and M2 (illumination with UV-cut filter); User-defined illuminant
Illuminants: A, C, D50, ID50, D65, ID65, F2, F6, F7, F8, F9, F10, F11, F12, User-defined illuminant
Observers: 2° Standard Observer, 10° Standard Observer
Colour spaces: L*a*b*, L*C*h, Hunter Lab, Yxy, XYZ and colour-difference in these colour spaces
Colour-difference equations: ΔE*ab (CIE 1976), ΔE*94 (CIE 1994), ΔE00 (CIE 2000), ΔE (Hunter), CMC (l:c)
Indexes: WI (ASTM E313-96); Tint (ASTM E313-96); ISO Brightness (ISO 2470-1); D65 Brightness (ISO 2470-2); Fluorescence index
Density: ISO Status T, ISO Status E, ISO Status A, ISO Status I; DIN16536
Data Memory: Colorimetric target data: 30 data; Density target data: 30 data
Display language: English, French, German, Spanish, Japanese, Chinese (simplified)
Scanning measurements*2: Scanning measurement of a colour chart can be performed.
Interface: USB 2.0
Output data*2: Displayed values; Spectral reflectance data; Spectral irradiance data
Power: Rechargeable internal lithium-ion battery (Number of measurements per charge: Approx. 2,000 when new); AC adapter; USB bus power
Dimensions (W × D × H): 70 × 165 × 83mm (Body only); 90 × 172 × 84mm (With target mask attached)
Operating temperature/humidity range: 10 to 35°C, 30 to 85% relative humidity with no condensation
Storage temperature/humidity range: 0 to 45°C, 0 to 85% relative humidity with no condensation

*1 Illumination for wavelengths under 400nm is unidirectional.
*2 Available when using basICColor catch all on Macintosh or Windows System.