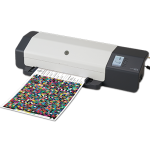 Price: € 5.200,00 *
* RSP
(€ 6.188,00 incl. German VAT)
Konica Minolta FD-9
Fastest spectrophotometer - all measurement conditions in one pass
Automation and speed are the guarantee for success in professional printing. 
Speed, accuracy, ease of use and flexibility make the Konica Minolta FD-9 autoscan spectrophotometer the ideal tool for color management. The FD-9 is the fastest spectrophotometer that records the standardized (ISO 13655) measurement modes M0, M1 and M2, and 12 other types of lighting, including 1 custom setting, in one pass. The optional measuring software basICColor catch QC is highly automated and can be configured to start a measuring task with one (!) mouse click, including the storage of all data.
Measurement condition M1

The ISO 13655 requires a defined UV component in the measurement illumination to detect optical brighteners accurately. The FD-9 is the first autoscan spectrophotometer that not only meets this condition but also records the other standard modes M0 and M2 in the same pass; in addition 16 lighting spectra are measured at the same time, including one custom setting, optionally with or without UV stimulation.

Autoscan

The FD-9 processes a wide range of substrates, from thinnest newspaper to cardboard and it also measures almost any chart including control strips. The position of the charts is detected automatically, an exact positioning is not required.

If large charts must be measured in a short time, the FD-9 is the right choice. No other instrument on the market measures 1500 patches in 4 minutes! Furthermore, all measurement conditions - M0, M1, M2 - are measured simultaneously in this short time.

A widespread opinion is that "Automatic color measurement" equals "Scan measurement" which has reduced measurement accuracy. The FD-9 places the sensor on each color patch to perform a spot measurement. This is done with the highest precision at high speed.

NEW! Optional Auto-Feeder for automatic, unattended measurement of up to 100 sheets.

Interfaces

This robust measurement device is to be connected via a USB port, but it also feels comfortable on the network.

In addition to USB, the FD-9 can also communicate via IP networks.

The built-in display provides information about the operating state of the FD-9 at all times.
Software for test chart creation
FD Chartmaker