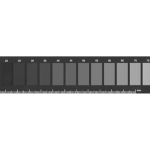 Price: € 179,00 *
* RSP
(€ 213,01 incl. German VAT)
Munsell Linear Grayscale
Additional target for optimising camera profiles
This Grayscale represents the perceptually uniform tone distribution (L* or Value) as described in the CIE L*A*B* color model or the Munsell Color System.
Designed by Scott Geffert in collaboration with Munsell to compliment other camera targets, or as a standalone target, this semi gloss scale is designed to help establish proper exposure and tonal response for increased accuracy. 
Each step represents a specific L* lightness value that directly corresponds to the readouts of hardware and software that support L*a*b* readouts. Combined with a an L* based working space and L* based display calibration users can enjoy a truly use neutral (scene referred) imaging environment.
Ideally suited for Scene Referred imaging applications (where the goal is to accurately capture scene values in a digital image) A growing number of image capture and raw processing tools support L*a*b* readouts including: Adobe Lightroom, Adobe Photoshop (not including Camera Raw), Hasselblad Phocus, Lasersoft Silverfast, Raw Photo Processor 64, Raw Therapee.
With the optional basICColor input 5 digital camera and scanner profiling software, the Munsell Linear Grayscale can be used as an additional target (the unique Multi-Target-Profiling) for optimizing the gray balance in DCPs (Digital Camera Profiles), special ICC-profiles for Capture One Pro and regular ICC-profiles.