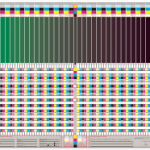 Price: € 410,00 *
* RSP
(€ 487,90 incl. German VAT)
pressSETUP test form
Print test form for setting up a printing press
With a single test form a printing press can be set optimal to new printing substrates or printing conditions:
Determine the optimum wet densities with the optimal print contrast for the machine control
alternatively: Determine the wet densities for standardized printing on color distance to characterization data
Calibration of CTP imagesetter RIPs
basICColor pressSETUP is a PDF test form with 45x64cm for printing presses starting from 50x70 format or larger. If required, a 2-sided test form is available for smaller machines. The pressSETUP checklist provides helpful hints and tips for correct operation.
The density of the inks is spread evenly onto the form by the color consumption, so that the printing press can run all colors with the same setting.
The fastest results are achieved effortlessly through the use of the quality control software basICColor certify which instantly displays the zone with the highest print contrast or the lowest AE reference for each ink.
With basICColor calibrate calibration curves for the imagesetter RIP are generated that are considerably more accurate than conventional imagesetter calibrations. In less than an hour a setup is done on a printing press for new material.
The pressSETUP test form is a registered design (DPMA AZ 40 2014 200 255.3)
The Quick Guide to set up your printing press with the basICColor pressSETUP test form can be found here.