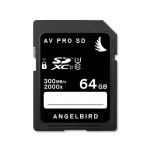 SD Cards
AV PRO SD
"You look one moment and there's everything, next moment it's gone" Joel Meyerowitz
If you have captured such a picture with your camera, loosing that file is the worst that can happen to a photographer! This fleeting moment cannot be broght back. That is why it is vital that your Memory Card is absolutely safe and dependable – under any condition. Even when used in drones, where the temperature, humidity and vibrations are extreme, the AV PRO SD records your data reliably.
The Angelbird AV PRO SD does not just meet these requirements, it is also fast enough for the fastest camera – needless to say that this is true for video as well: Blackmagic Design Certified!
Products
Features
Contents
Versions und pricing
64 GB: € 92,44
64 GB 2-Pack: € 180,67
128 GB: € 180,67
128 GB 2-Pack € 357,14
Taxes and tariffs not included
Features
Sustained read speed: 300MB/s
Sustained write speed: 260 MB/s
Suited for: 4K Raw, 3D, Video, Drones
Interface: SDXC™, SD 4.0, UHS-II,
Class: U3, Class 10, V90
X-ray & magnetic proof
Shock, dust, water, temperature proof
Operation: -25°C / 85°C
Storage: -40°C / 85°C
Certifications: RoHS, CE, FCC
Blackmagic Design
Contents
• AV PRO SD (1 or 2 Cards, depending on pack)
• basICColor mini target for camera DCP profiling
• Label sticker
• Activation code for the full limited warranty*
• Promo-Code for basICColor camera profiling software "input 5" or "inputRAW"
* To receive the full limited warranty, the product needs to be registered on the Angelbird Personal Service Portal within 30 days after purchase. If not registered within this period, the market-specific legal guarantee period comes into force