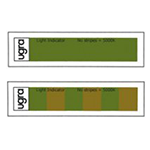 Price: € 79,50 *
* RSP
(€ 94,61 incl. German VAT)
UGRA Color Temperature Indicator
Viewing environment validation for digital proofs and prints
Due to metamerism issues, the reproduction of color in modern digital proofs is very much dependant on the lighting environment. For this reason, international convention is based on the D50 (5000K) standard. In the past wrong decisions have been made due to poorly controlled lighting conditions. The Ugra color temperature indicator establishes conforming D50 lighting standards are being achieved.
The Ugra color temperature indicator is a visual control which can be sent with color proofs to validate the 5000 K viewing condition.
Under perfect lighting, the olive colored strip appears homogenous. When the lighting falls below or above 5000 K, the viewer will see distinct variations in the strip.
The 9 x 75 mm indicator strip has adhesive backing for easy application to the border of a proof or print.
Functions
UGRA Color Temperature Indicator with 50 adhesive strips