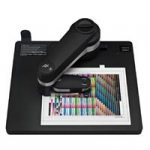 Price: € 2.830,00 *
* RSP
(€ 3.367,70 incl. German VAT)
X-Rite iO Scanning Table
Automated Scanning Table for the EyeOne Pro
Automate your EyeOne Pro2 with the i1iO2. It reads an entire color target in less than three minutes. Whether you are a photographer, designer or a printer, you will appreciate the automation and speed. It is as simple as turning the device on, positioning the target on the test bed - and the i1iO2 does the rest! This economical solution can be combined with the basICColor catch pro application to simplify your gray balance, ICC profile building and quality control. The device reads reflective substrates including newsprint, mylar, ceramic, textiles, vinyl, or cardboard up to 10 mm thickness. Because the device reads approximately 500 patches per minute, maximum productivity can be achieved. In addition to the fully automated reading, the i1iO2 eliminates reading errors which might otherwise occur when the EyeOne is used in strip reading mode. These errors can be operator induced, or because of misreads in the separators required by the EyeOne for strip reading patch definition. Current EyeOne owners can upgrade to the i1iO2 at any time.
Automation

Simply place the EyeOne Pro2 on the i1iO2 measurement arm, position the color chart (profile target) on the test bed, and the device does the rest. No more wasted time or frustration from making individual manual readings. 

Productivity

At a rate of more than 500 readings per minute, the i1iO2 will read substrates u to 10mm thick, including newsprint, mylar, ceramic, textile, paper or cardboard. The unattended automation frees you up to attend other business. 

Advantages

The i1iO2 and EyeOne Pro2 spectrophotometer combination offers these advantages, consistent reliable measurements, improved productivity, and reduction in measurement read errors.
Package Includes
iO Scan Table (Arm + Base Plate) - EyeOne Pro Device Not Included
Replacement Gilder Ring
Power Supply 100 240 VAC, 50/60Hz
Power Cable
USB Cable
Quick Start Guide
12 Month Manufacturer Warranty