basICColor DISCUS - Made To Measure
Monitor technologie has experienced a rapid development lately and now demands much more from a measurement instrument than before. Video, cinema, presentation, medical applications... require monitor instruments with highest precision, signal to noise ratio and longevity.
basICColor DISCUS is made to measure for these demanding fields of application. The high-end colorimeter basICColor DISCUS offers the precision and flexibility of a lab-grade instrument in the compact design of a hand-held instrument.
The encapsulated optics and the thin-film glass filters of the sensor guarantee for long term stability of the mesurement values. Each instrument is calibrated individually and can be recertified over and over. This ensures that you can use basICColor DISCUS perpetually as a dependable master tool and a reference instrument
The built-in temperature sensor in basICColor DISCUS compensates for incremental heating during a measurement session. Thus you can be sure to get reliable and constant measurement values even in the critical dark areas.
With a basICColor DISCUS you are equipped for all measurement tasks. It masters contact and tele measurement with laser pointer, as well as measurement of (ambient) light. Thanks to the intelligent design, the flat calotte is mounted in parallel with the paper surface. It can also be positioned rectangularly to the light source with the help of the laser pointer.
Loadable calibrations make for a guaranteed future – basICColor DISCUS is easily adaptable to any future display technology.
Features:
Measure Modes:
Contact, tele and (ambient) light measurement
Optical Design:
Highly sensitive colorimetric sensor with long-term stable thin-film glass filters, (Glasfilter), elaborate optical path for a large measure spot even in contact measurement
Aperture Angle In Contact And Tele Measurement:
+/- 2°
Measure Spot In Contact:
ø ca. 7 mm
Measure Spot In Tele Measurement, Distance 1m:
ø ca. 7 cm
Measure Spot In Tele Measurement, Distance 10m:
ø ca. 70 cm

Filter Wheel With 3 Positions:
• Black calibration position and protection for optics and laser pointer
•• Tele- and contact measurement position with filter thread for (lens hood, filter,...)
••• Integrated flat calotte for light measurement (Aperture angle 180°)
Contact Measurement:
Mounting suspension with tape measure
Tele Measurement:
3/8" tripod socket, laserpointer, tape measure
Light Measurement:
3/8" tripod socket, laserpointer, coplanar unibody housing for measurement of lighting (lightbox, copy holder for proof prints, print control station...), flat calotte coplanar with paper surface at a distance of only 27mm from the surface, 2 positioning aids at 45 for repeatable appraisal of stray light
Housing:
Aluminum Unibody For Added Robustness And Thermal Stability
Measurement Range:
Luminance: 0,05 to 2.500 cd/qm
Chromaticity: 0,05 to 2.500 cd/qm
Accuracy:
Luminance: +/-2% 1 digit ( 1 ~500cd/m2 )
Chromaticity: +/-0.002 Illuminant D65
Chromaticity: +/-0.0025 CCT 4000-15000K
Chromaticity: +/-0.0065 for other colors
Calibration:
PTB traceable
Flickering:
Measurement according to VESA standard
Interface:
USB 2.0
Power Supply:
4,7 to 5,5V DC through USB adapter
Parameter Storage:
8 different base calibrations (5 used by factory settings), 22 positions for user calibrations
Speed:
max. 10 measurements/s for low sensitivity, max. 4 measurements/s for high sensitivity
Temperature Compensation:
10°C to 50°C
USB Cable:
ca. 1800mm
Dimensions:
ø 97mm, height: 27mm, weight: 310g
Included In Delivery:
Instrument w/ laser pointer and integrated calotte, socket adapter 3/8" to 1/4", mounting suspension w/ integrated tape measure
Options:
basICCase I,sturdy transport and storage case for DISCUS
basICCase II, elegant transport case for DISCUS and optional table stand, heavy weight, shock-absorbing, height-adjustable
Software basICColor display
basICColor Newsletter
Subscribe

to the basICColor newsletter! Sign up to our newsletter now and we will inform you about software updates, latest information on products and news from basICColor.
basICColor PSOready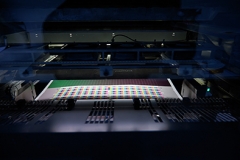 Professional production bundle for the printing workflow: Set any offset printing press perfectly to a new printing condition in appx. 1 hour (drying time excluded) – regardless whether it is a new standard (like FOGRA51 or FOGRA52 for example), a new substrate, or even a new printing press.
New support phone number
You can now reach our support hotline at a new telephone number:
+49 8856 60 888 02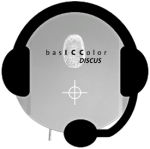 basICColor GmbH offers comprehensive technical support for your products. This support includes assistance with installation, registration and operation of all software and hardware products offered by basICColor GmbH. Questions will be answered either by e-mail, or during business hours by phone. Our specialists provide competent, reliable and timely assistance.